Bo's surgery was on May 31st, 2011. I am a substitute teacher, and I subbed in the sweetest 1st grade class that day. I came home with many sweet notes and pictures. Those little ones really helped keep my mind off of the happenings that day.
The doctor called us when she got out of Bo's surgery. He was in surgery for a little over three hours. She was happy to report that the tumor had not ruptured and seemed to be in it's own capsule. The "mass" was sent to the University of Florida for testing. We have not heard back yet on the results.
Bo was kept at the vet overnight and we picked him up around noon the next day. We were very nervous to pick him up, but he literally came running out of the door, dragging the vet behind him. I guess I thought I would be taking home a different dog, but he came out the same 'ole Bo he went in as. He was so happy to see us and so full of energy, it was hard to believe that he was missing a leg.
The vet briefed us on what to expect, medications (still Tramadol, Vetprofen, and Gabapentin), and supplements (Dasuquin, Catalyst, and Vetri-Liver Chews). She informed us that something in his liver count was a little high and that was more than likely caused by the Vetprofen. We were instructed to only use it once a day for three additional days and then to stop. The liver chew supplements were given to try to help the liver out.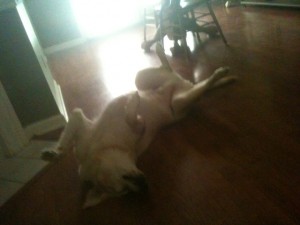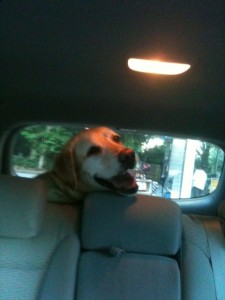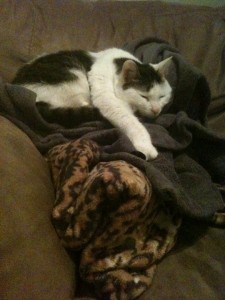 Bo was getting around surprisingly well the day after surgery.
The first night home was a little rough. We were very diligent about giving him all of the medication, but he was still quite disoriented and not entirely comfortable. He ended up sleeping for most of the night in the office and I slept next to him on the floor…no wonder he prefers the bed! That night we experienced the first of many "phantom pains". WOW! Bo would look down at his legs and then jump and scream at the same time. After, he would put his tail between his legs and have body shakes. All we could do was just try to talk to him and pet him.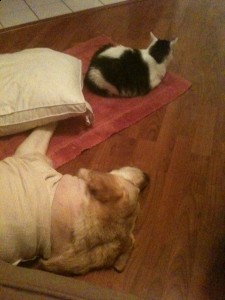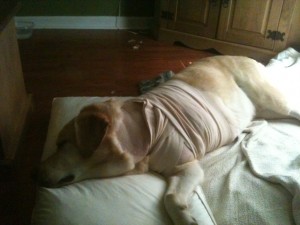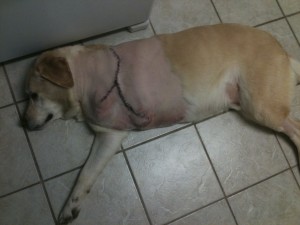 Aside from the phantom pains, the first 5 days were not too terribly bad. My husband's and my family came to visit and bring us dinners. I started sleeping on a blow-up mattress on the floor and would just park it next to where ever Bo ended up. He was eating regularly and going to the bathroom normally. I put lots of rugs down on the laminate wood floors thinking that they would be easier to walk on, but Bo would go out of his way to walk around the rugs.
We went to the vet on Day 4 after surgery and got a good report. They took off his bandage and gave him a shirt and bandanna to wear. Day 5 after surgery was a beautiful Sunday and Bo spent close to an hour lounging on the porch with us, in addition to his limited routine.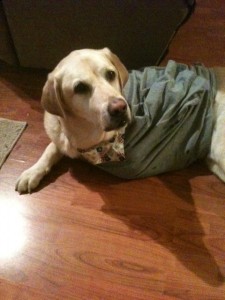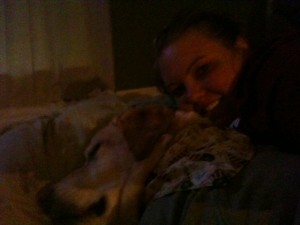 On Day 6, Bo started to seem a little withdrawn. He would still hang around us, but was just a little down. He didn't eat much, but he was still taking his meds and supplements. For the first time, he did not have a phantom pain episode, so we thought that even though he was a little out of it, he was still making progress.