Unfortunately, Week 2 post-surgery did not go as smoothly as Week 1. Bo would not eat or drink anything and he was very unresponsive. He would not even pick his head up when we came into the room. I started using a dropper to squirt some water into his mouth to try to keep him hydrated. He went out to the bathroom once each of these days, and as for moving around, the bathroom trips were about it. My husband and I suspected that his mood had much to do with all of the medication. I took a video of Bo's lethargy and made a vet appointment to get him checked out.
http://www.youtube.com/watch?v=XXwujSaA2m0
On Day 9, we went to the vet and it turns out the video came in handy because Bo decided to be his perky self again! I knew I would need proof that he was being mopey. Happier, but still moving a little slowly, the vet techs got him to eat some wet food and drink water. The vet was in agreement with us and thought that the meds could be making him feel yucky. We decided to start weening him off of the Gabapentin and cut the Tramadol down to two doses a day instead of three. They said to keep in mind that he may be having liver issues and to keep giving him the liver chews. They want to check the liver levels again in a month or so. They weighed him and he is down to 90 lbs…good news for those 3 legs. Also, they went ahead and took his stitches out a day early because everything looked great!
Days 10-14 have seen a slight improvement in his mood, but he is still not back to being his crazy self. He is having much more difficultly getting around and his back legs are very shaky. His appetite has improved though; we are adding a half of a can of wet food to his dry food and that seems to perk up his interest for meals. He is spending a lot of time sleeping in the guest bathroom, which he never used to do before. He kicks the bathmat out of the way and and sprawls out in the corner by the tub and wall. I was concerned about this at first because we don't usually spend much time on that side of the house, but we think it just may be a cool place to hang out. We are having 100+ degree weather down here in Florida and the cooler tile may just feel better to him. At least that is what we are hoping… Also on Day 14, the vet called and said to knock the Tramadol down some more. So we will give him 1 full dose, but split it in to 2 times a day. Also, she said to stop the Gabapentin all together. So…we were at 17 pills a day after surgery and now we are down to 3 and hoping to see some major mood improvements!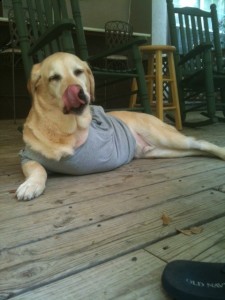 That brings us to today…15 days post-surgery. I have been feeding off of Bo's mopey mood a little bit, but when I came home from work today, he was up and RAN over to see me! Didn't that just make my day!! He as been approved to start swimming again, but he just hasn't been in the mood. Hopefully, lowering the meds will make him happier and want to do some fun activities again.
Did anyone else experience mood changes in their tripawd pups after surgery? Did they ever get back to their "normal" personalities?
I am hopeful that each day will mark more positive progress. Getting Bo's story out of my head and "on paper", so to speak, has helped with my mood tremendously!