The real Bo is starting to show his true colors again! I have been greeted at the door for the past 5 days, which just melts my heart. This past weekend was wonderful and we enjoyed every minute of it.
My sister came in to town Friday night and came by with my cousin to see tripawd Bo for the first time. Bo LOVED having company and was hopping all over the house. We migrated to the porch to sit and chat, and this pup did not want to stay inside. He wanted to lay right in the middle of the party, just like usual. He got tons of extra love this night and was in a great mood. He even snuggled with me in the bed for a little while too!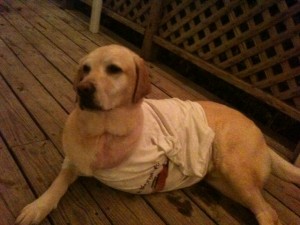 Bo got in the pool for the first time post-surgery on Saturday. With our record breaking temperatures this week, he was ready to cool off. We put on his very cool, lime green life jacket and walked him right in. We were a little nervous, but Bo showed us that there was nothing to worry about…he is a natural born swimmer. In no time at all, he was swimming the length of the pool. We could tell his was concentrating and adjusting to this new movement, but he did not whine a bit…which means…NO PAIN!! We only stayed in for about 10 minutes and then lounged on the porch to get dry.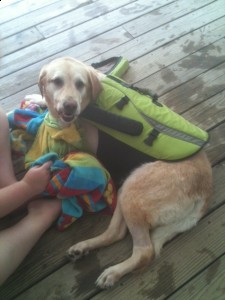 Sunday was a beautiful Father's Day. We had a pool party, bar-b-que lunch at our house…which means we had a great houseful of family. And Bo had a blast! He was showing off, prancing all around the backyard. We even saw him go into a mild run! Bo just loves kids and our 10 year old niece got to give him lots of love…he didn't mind that one bit. He really wanted to go in the pool, but with all of the hopping around he had been doing, we thought that might be overdoing it. We were right; he was too tuckered out to even get up the 3 stairs on the back porch (and he hasn't had any problem with stairs). He went right to sleep, woke up for dinner, and back to the ZZZZ's he went.
A big thanks to all of the great fathers out there…especially mine! It was wonderful spending the day with my family and my husband's family. Shout-out to my amazing husband…Happy Fur-Father's Day!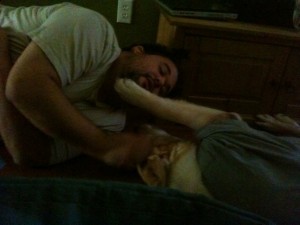 Bo is still taking 3 Tramadol a day and we are eventually going to start weening him off. I guess we are a little hesitant to do so because the past few days have been so good. It is inspiring to watch Bo do some of the things he used to do before surgery. Also, it's good to know that he feels good enough to do fun things, but he just has to work his stregnth and endurance up again.
Bo is still recovering from the active weekend. Right now he is sitting in the living room looking out the window, growling at squirrels and barking at people/dogs that are walking in front of the house. These are the days. 🙂