Can it be? Has it really been 2 months–9 weeks–since Bo's amputation? We are so proud of our boy and he got lots of extra special love and treats today.
I must admit, though–Today was hard for me. I was so excited and happy with how far he has come, but then those prognosis numbers popped up in my head. I'm thinking for only a 4-8 month expectancy, these past two months have gone by waaaay too fast! Don't get me wrong, my husband and I have a new found perspective on life. We are living each day to the fullest and cherishing all of these special times together. Still, that doesn't change reality and it just caught up with me today.
Anyways…enough of that… Happy 2 Month Ampuversary Bo!!
Here are some highlights of what we've been up to:
*Bo is swimming a lot more. We try to let him swim 2-3 times a week. He has always been a water dog, but when he had the tumorous leg, it was painful for him to swim. He is also a diver, and the last time he dove into the pool pre-amp, he whined and cried all the way to the pool steps and got out. On Sunday, Bo did his first post-amp, pool dive. And guess what…No whimpering, only tail wags!! My favorite part about watching Bo swim is that he doesn't limp or hop, he just swims like any other dog.
*A new favorite activity for Bo is rolling in the grass. It cracks us up!
*We took our first tripawd road trip. Lee, Bo, and I went to my family's mountain cabin in North Carolina for a long weekend. Bo has always been a good car dog and he even did pretty well as a tripawd. He was a little out of sorts the first night up there, but after that, he chilled out and relaxed with us. Lee and I did plenty of hiking and had a whitewater rafting trip. Bo enjoyed getting away from the Florida heat and humidity and hung out on the porch a lot of the time. He even surprised us when he went romping around the woods. We are so thankful for Kaneda's harness…it was such a big help to get him around with it.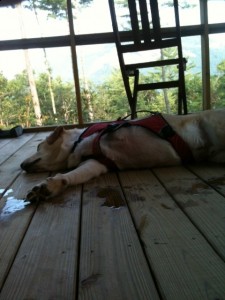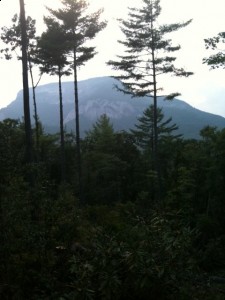 *Bo had a couple of minor issues, but we went to the vet and she eased our minds. Bottom line, he is happy and doing well. Details of our concerns are here: http://tripawds.com/forums/shout-outs/good-news-for-bo/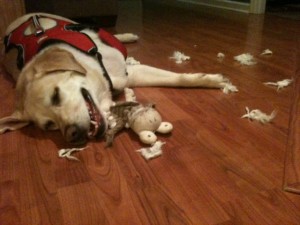 *An interesting observation is how our cat, Belle, has reacted to Bo's situation. Before surgery, when Bo had the cancerous tumor, Belle stopped going around Bo. She would barely even sit in the same room with him. Even after his operation, she gave him plenty of space and time to heal. Just recently, Belle has started loving on Bo again. She will sleep next to him, give him nudges, and just generally seems to want to be around him. I know how intuitive animals are, so we are taking this as a good sign that Belle feels that Bo is well enough to snuggle with again. My hubby is a tripawd member now and he posted some recent pictures here: http://tripawds.com/forums/share-your-story/bocephus-a-photo-update/
Well, I think that gets us up-to-date on how things are going! Even if life is going as fast as light, we are still trying to make the most of every moment and to Make Each Day Count!